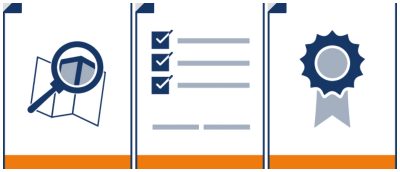 With KOMO online, you are positioned right at front of the chain!
All KOMO Assessment Directives and associated certificates plus contract document specifications have been digitally released online in the middle of this year via KOMO online. They are directly and digitally linked to the relevant building decree paragraphs. The KOMO certificate holders able to deliver in accordance with these quality standards are also directly accessible.
KOMO online, a new KOMO website section also has a direct link with the Dutch building decree website portal (bouwbesluitonline.nl). As a KOMO certificate holder you will soon be at the forefront of the building chain in the Netherlands! Bouwbesluitonline.nl already gets no less than 60,000 visitors per month!
Companies operating in the field of building and infrastructure, but also architects, prescribers and technical experts, make good and profitable use of this.
Everything searchable and findable online
In KOMO-online, everything is searchable and findable for every building application for which KOMO-certified products and/or services are available. As a result, frequently used applications in building and infrastructure, such as BIM (Building Information Modelling) and other design software, can now 'switch' directly with everything that is supplied under KOMO. KOMO Online will go live midway through 2019. Well in time to be in keeping with the Wkb, which is expected to come into effect on 1 January 2021 and which honours KOMO-certified quality.
Also in the STABU contract document system
At a later stage this year, KOMO online will also be accessible from a renewed version of the STABU contract document system. In this way, the following also applies: raw materials, additives, building products, building systems, realisation processes or services for the building and infrastructure chains with a KOMO quality mark are easier than ever to prescribe and purchase. That is a good thing, because if the KOMO mark is shown on it, it is guaranteed to meet all applicable requirements of both market parties and governments. Objectively tested by an accredited certification body.