All KOMO certificate holders on the website Bouwbesluitonline.nl and in the STABU specification system
July 6, 2018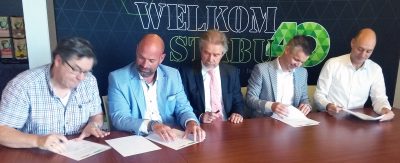 Prescribing and choosing KOMO certified quality for building and infrastructure will soon become even more appealing! All KOMO Assessment Guidelines plus all KOMO certificates can be consulted directly and free of charge in the near future through both Bouwbesluitonline.nl (60,000 visitors per month) and the STABU specification system. All relevant KOMO certificate holders are also immediately mentioned with every Assessment Guideline.
An even more prominent market position
An important and extremely positive development for all KOMO certificate holders, who will become even more prominent in the market. So KOMO continues to continuously create added value for its certificate holders. They deserve that: they are more extensively companies that invest permanently in far-reaching quality and innovation. And so they contribute to the overall building quality. Whether it concerns raw materials, additives, building products, building systems, realisation processes or services for the building and infrastructure chain: if the KOMO quality mark is on it, it meets all applicable requirements of both market parties and governments. And so there is optimal quality.
"STABU is very pleased indeed," says Marc Verhage
"STABU is delighted that we have been able to reshape the partnership between BRIS, KOMO, BNB, and STABU, in which we put the interests of the user first." Marc Verhage: This is the last action before my departure. I have argued for more cooperation for five years and I am glad that I have been able to round off my period at STABU in this fashion."
Intensive cooperation
The KOMO assessment guidelines, certificates and certificate holders are included in an intelligent digital platform that makes all Assessment Guidelines and Quality Declarations (certificates) accessible and searchable (also on keywords), which is directly linked to the website Bouwbesluit.nl and to the STABU specification system. This is the result of intensive cooperation in this area between KOMO, STABU, BRIS and the Association of Dutch Contract Documents Engineers. These parties signed a 'Letter of Intent' for this purpose on Tuesday, 3 July 2018, which establishes the basic principles for a fully intelligent digital access to KOMO assured quality for building and infrastructure.
Letter of Intent BNB, BRIS, STABU and KOMO
'Good digital access is of great added value for all those drawing up specifications, manufacturers and clients. We want to position KOMO Assessment Guidelines and certificates in an integrated way with services such as STABU and Bouwbesluit-online, in which Assessment Guidelines and KOMO certificate holders get more visibility, so that they are immediately made accessible to prescribers and supervisors and are enriched by linking them to the building regulations and specification formats', state the cooperating organisations in their Letter of Intent.
In the photo: from left to right, Teus Schimmel, chairman BNB; Marc Verhage, director STABU; Ton Jans, director KOMO; Bastiaan Benz, director BRIS; Oscar van Doorn, director SKH.