Building sector wants sealants and adhesives with KOMO Quality Mark
August 14, 2019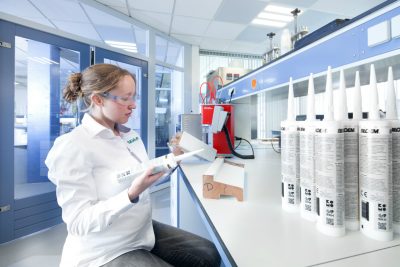 "The building sector requires elastic sealants and adhesives that are accompanied by the KOMO Quality Mark. With the KOMO Quality Mark clearly visible on the packaging. Experts perform regular tests on samples to determine the essential values and KOMO makes it very clear; you the customer, always get quality as promised. Objectively determined and repeatedly in accordance with the official Assessment Guideline drawn up for this."
Director Rob Bloem of Bloem Sealants in The Hague, a valued and permanent operator in the Dutch building sector for the past 65 years, states, "We are strongly in favour of demonstrating the quality of every step in a building process by means of a KOMO certificate. That's the best way to organise and create a closed system, where you as buyer can rely on the quality being up to scratch," says Bloem.
Regular testing is what counts
"Back then in 2006, you did of course already have the ISO 11600 standard for sealants in the building sector. But the inspection certification was non-recurrent and we found that insufficient. This is the reason why we started KOMO certification for a range of glazing sealants. It is noteworthy how afterwards colleagues also started marketed their products with a KOMO Quality Mark. The CE test has been obligatory since 2014. But for CE, a product only needs to be tested once by the so-called Notified Body (*). However, without regular testing by an inspection body, changes in the composition, etc., can take place unnoticed. You will only notice this if damage occurs later due to, for instance, detachment of the sealant or adhesive. An important additional difference is that at KOMO the production process is also checked in addition to whether the specifications of semi-finished products meet the requirements and even whether calibration of the weighing equipment has taken place, so that ongoing constant quality is guaranteed at the highest level," says Rob Bloem.
Five sealants and adhesives with KOMO
"This is why there are presently five important sealants and adhesives with KOMO certification in our selection for glazing and facade building. And more may follow. Meanwhile, there is also a demand from abroad for products with a KOMO Quality Mark. Moreover, we will soon be getting new building legislation and it is therefore logical that the KOMO Quality Mark will become even more important in the future. We are looking forward to that."
(*) This applies to sealant products for outdoor applications. For indoor applications, an own declaration from the manufacturer is sufficient, except where it concerns fire resistance (eds).