Vianen Kozijnen gets KOMO Quality Mark on its timber framing facade elements for high-rise buildings
August 14, 2019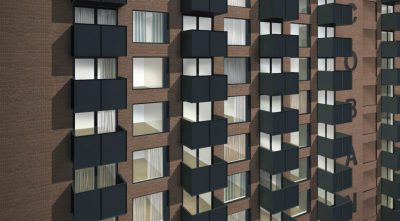 Vianen Kozijnen developed innovative Timber Framing facade elements in close cooperation with Heijmans and SIGA. These elements are fitted with aluminium frames in a wooden cavity skin. Water and airtight, suitable for processing in high-rise buildings. As of May 2019 these Timber Framing Construction elements are KOMO certified (Assessment Guideline 0801 Wooden Facade Elements). They were recently applied in the Cobana and Pisang residential towers in Rotterdam.
375 rental properties in the Bananenstraat
Both residential towers were erected in the Bananenstraat in Rotterdam and contain 375 rental properties. Quality and safety inspector Bert van der Nat (Heijmans): "The concrete structure consists of prefabricated walls and floor elements. The facades of both towers have been sealed with KOMO-certified timber frame construction facade elements and adjustable wooden frames from Vianen Kozijnen in Montfoort." Bert van der Nat was involved in the optimisation of these special Timber Framing facade elements from the very start.
Specific requirements for facade elements in high-rise buildings
"High-rise buildings are always exposed to heavy loads in terms of high wind pressure and the frames must be able to withstand extreme weather conditions to prevent leaks, draughts and wood rot in the long term. In collaboration with all parties involved we have delivered a prefabricated facade element that meets the specific requirements for high-rise buildings," says Van der Nat. The timber framing facade elements guarantee an air and watertightness of up to 600 Pa and can be used up to a height of over 100 metres, also on the coast. They achieve level 4 airtightness (according to EN 12207) and satisfy the passive level (Qv10 0.15).
See the KOMO certificate issued to Vianen Kozijnen
On the KOMO website you can always check the validity of any claimed KOMO certification. So you will also find the KOMO certificates issued to Vianen Kozijnen B.V.– along with all other certificate holders.
The KOMO quality mark guarantees that the quality has been tested by independent experts. Watch the KOMO Quality Mark video clip.