Infinity Repair receives very first KOMO innovation certificate
September 4, 2018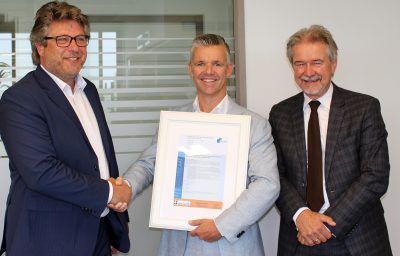 On 3 September Infinity Repair became the very first company to receive the KOMO innovation certificate. It is in recognition of a new overall concept that the company developed for the renovation of damaged wooden window frames. "Revolutionary, circular, highly innovative and sustainable in every respect", said Bastiaan Benz of Dutch certification organisation SKG-IKOB, who presented the certificate to director Nico Heijmen of Infinity Repair.
The festive event took place in the office of housing corporation Woonstad Rotterdam, in the presence of representatives for the partners involved, Accsys (the producer of Accoya® wood), Aedes, Kloet Onderhoud, Sigma Coatings and KOMO foundation. On that occasion, Woonstad Rotterdam also granted a contract for the renovation of window frames in 250 rented houses.
New certificate stimulates building innovations
The KOMO innovation certificate is new and has been specially created to stimulate building innovations. It enables companies to quickly offer highly innovative KOMO certified products or building processes and to do this without the competition watching on – and therefore with the guarantee that the quality has been tested by independent experts and that relevant legislation and regulations have been met. A KOMO innovation certificate is valid for three years and can then result in a regular KOMO certificate.
KOMO director Ton Jans: "In terms of the technical side of certification, this is also entirely innovative in design. It can be described as a kind of process certification 2.0. The civil engineer can view every step of the process (digitally) at any time. The assessment directive incorporates an integral approach to the entire process, involving an assessment and improvement course; from training and qualification of skilled workers, the technical execution of recording and assembly up to and including after-sales."
Wooden window frames can last 30 years longer
Thanks to Infinity Repair, wooden window frames can last 30 years longer. The concept provides for the replacement of damaged parts. The new parts are mounted on the existing window frame by means of a specially developed connection for specific parts. The new parts are made of durable custom-milled Accoya® wood (modified, wood with FSC® certification) and are treated with a PPG/Sigma Coatings primer system (min. 120 mu) on all sides.
Results: no longer necessary to replace the entire frame, a considerable reduction of material used, lower CO2 emissions and a significantly extended life span of the frame. Every element of Infinity Repair is equipped with a chip, so that every repair is traceable. Infinity, in collaboration with Sigma Coatings, Accsys and the processor of the system (a property maintenance or painting company), offers 30 years of budget certainty on the maintenance and management of repaired window frames, with SKG-IKOB as institution of quality assurance.
Cooperation Woonstad Rotterdam
Nico Heijmen from Infinity Repair: "Woonstad Rotterdam provided this development with all the input and pilot projects that were needed. This is based on the idea that it makes a significant contribution to combatting unnecessary material destruction, limits inconvenience for residents and that it has a very favourable period for cost recovery. I am proud and happy to say that after almost two years of intensive collaboration with our project partners, we can now supply the system under a KOMO Innovation Certificate."
Photo: from left to right Nico Heijmen (Infinity Repair), Bastiaan Benz (SKG-IKOB) and Ton Jans from KOMO.
Would you also like to be certified for KOMO? Watch this video clip to find out what advantages it offers you!