Renewed KiK tool now available
December 1, 2020
New KiK tool detects chance, size and consequences of building risks
The KiK tool, the software application that is part of the instrument KiK, has been radically renewed. The KiK tool is the first application specifically set up for the Wkb. Its unique characteristic is that it structures the chance of a risk occurring during a building process, the extent of that risk and the consequences, and subsequently lays the foundation for efficient assurance.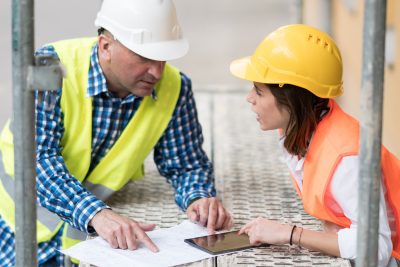 Innovation of the tool was based on an extensive evaluation of the first version. Quality assurers who already work with KOMO Building Quality Assurance, parties from the building sector and the Review committee for quality assurance instrument provided feedback. KOMO, KiK and BRIS then realised the KiK tool 2.0 based on practical insights and (market) wishes.
" The KiK tool now makes visible what you need to do to manage such risks. "
KiK foundation director Ton Jans
Achieving the goal together
KiK foundation director Ton Jans discusses the innovations: "The KiK tool creates more opportunity to increase uniformity within quality assurance for building and infrastructure. The tool's first version already offered functionality for the risk analysis required in relation to building projects under the Building Quality Assurance Act. In addition, the KiK tool now makes visible what you need to do to manage such risks. A big step forward for quality assurance providers, architects, local town councils and contractors, who can all work with KiK to achieve the goal of the Building Quality Assurance Act (better building quality within legal frameworks) together. They do this by compiling the legally required reports for the quality assurers and contractors in a single application." KiK tool is now available on request via this (Dutch) website.
Building Decree Focal Point
The KiK tool guides users through a process in which the requirements of the Building Decree take priority. Based on the subsequent risk assessment, the tool describes courses of action that align with the assurance plan. The KiK tool then provides a range of possibilities to link actions to people, to digitally collect evidence of the as-built situation and to record decisions. As a result, with the touch of a button the KiK tool is eventually capable of generating all required legal reports.
Recommended by 30 (industry) organisations
KiK tool is supported by the broad coalition of (industry) organisations that have been behind KiK from the beginning. See here the Dutch organisations that recommend KiK. More information info@kik-komo.nl