Customers want independent proof of cladding panel quality
October 16, 2023
In August's BouwTotaal, Christine Klomp from Trespa International, a KOMO certificate holder, explains why it is so important to ensure cladding panels are tested and certified according to the Building Quality Assurance Act.
The article:
In the Netherlands, if you're looking for high-quality cladding panels you will soon find yourself at Trespa. The production site in Weert supplies cladding panels to clients all over the world. "With the introduction of the Building Quality Assurance Act customers want an even higher level of assurance that the promised quality will be delivered. That's why our cladding panels always come with KOMO certification," says Trespa's Christine Klomp.
As Compliance Officer, Christine's responsibilities include testing and arranging cladding panel certification and based on this position she is also a management team member. "Aspects such as fire safety, sustainability and ease of maintenance get a lots of attention here. We obviously also follow the latest trends including circularity and bio-based building."
"Trespa is known to us for their high-quality cladding panels but they also produce special interior panels for locations such as laboratories where great demands are placed on hygiene, maintenance, impact resistance, moisture and chemical resistance. However, the main products are still the decorative top quality High Pressure Laminate (HPL) panels." While Trespa is an HPL panel not every HPL panel is a Trespa panel, Christine adds to clarify a common misunderstanding. What many users do not know is that Trespa's cladding panels contain a particularly high percentage of "bio-based" raw materials. This is certainly distinctive from other cladding panels.
Why certify?
Trespa holds KOMO certification based on Assessment Guideline 4101-1 Facade cladding with panels – General requirements, and Assessment Guideline 4101-4 Facade cladding with panels – Additional requirements for decorative high-pressure laminate (HPL). Certifying body is SGS Intron Certifications. Christine: "As a customer, you want to know what a product is suitable for but also what it is not meant for. As the supplier you have to communicate that clearly. We do obviously set high production standards ourselves and we also regularly test facade panels which we take out of production when we sample. However, checking the quality of meat is not something the butcher wants to handle alone. An independent party should also check it. "This is exactly why KOMO certification is so important."
The Compliance Officer explains how SGS Intron visits the production location at different moments throughout a year and randomly removes panels from production. These are tested in their own laboratory. The quality documents are also regularly checked. "This ensures customers that they are buying a product with demonstrable quality. On 1 January 2024 this need will increase through the introduction of the Building Quality Assurance Act. In addition, for us it is pleasant to be able to check the results of our in-house quality control against the results of the tests conducted by SGS Intron."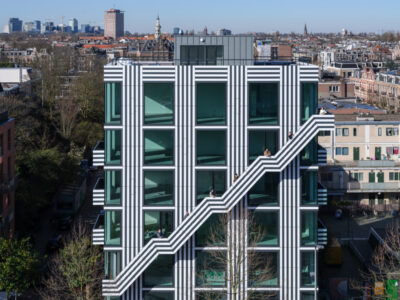 Product quality
Christine points out, emphatically, that product quality is not the same as the quality of the entire facade construction: "We always recommend calling in a specialist for application in the facade. A facade construction must satisfy many requirements, including fire safety, structural safety, environmental and energy performance, maintenance, sustainability and aesthetic requirements. The certificate shows that the product quality meets the requirements set, but says nothing about the properties of the entire facade construction, That must always be looked at carefully!"
With the arrival of the Environment and Planning Act on 1 January 2024, the Building Decree will be succeeded by the Decree on Building Works in the Living Environment. That will launch a number of changes to the requirements set out for facades. "These changes are currently being processed in the assessment guidelines to ensure that the products will meet the requirements defined in the new Decree on Building Works in the Living Environment."