Housing concepts with KOMO certificate
October 5, 2022
Building companies are becoming more and more interested in standardisation and industrialisation. There are even entire housing factories emerging. Industrially manufactured housing provides an answer to the huge housing shortage and the search by consumers, housing associations and others for affordable housing. SKH certifies residential concepts for KOMO certificates on the basis of Assessment Guideline 0904: Timber Frame Homes, and Assessment Guideline 0905: Building Systems for Energy-Efficient Homes and Home Extensions. By definition, this means that residential building concepts comply with building regulations.
The introduction of The Building Quality Assurance Act (hereinafter: Wkb) and the changed burden of proof as applicable to the builder, presents the builder of residential building concepts with a new challenge. How does the builder demonstrate that his/her concept meets the requirements of the Wkb and the Civil Code's burden of proof? And how does the builder keep quality assurance costs affordable?
Building companies specialising in residential building concepts can opt to get their concept certified. By doing this they show objectively tested and approved quality while carefully managing their proof and quality assurance costs.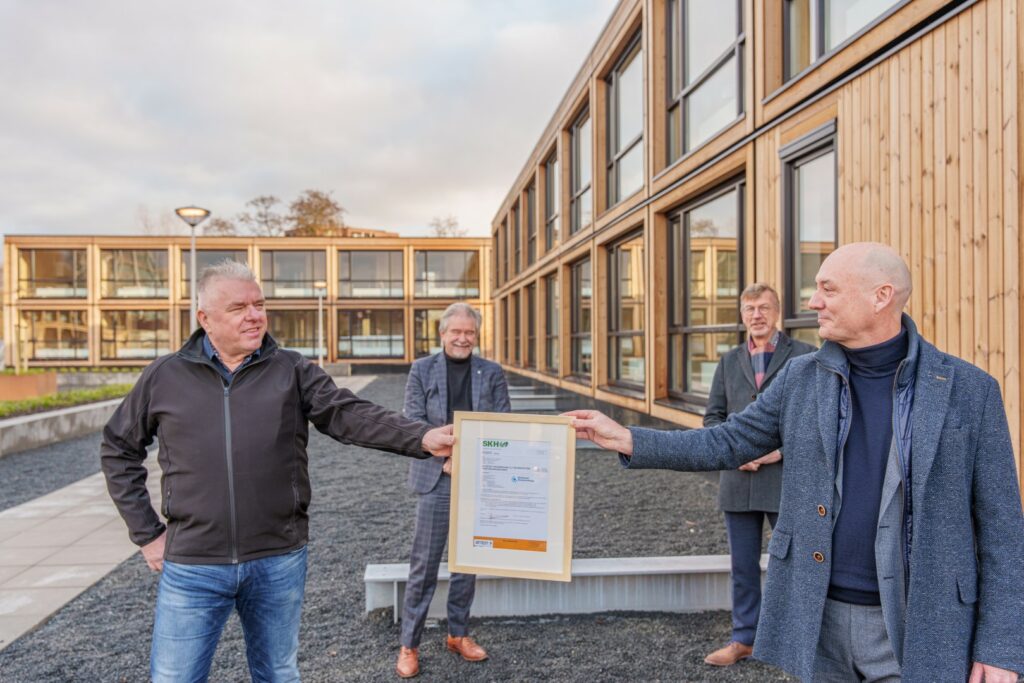 Practical Experiences
One of the building companies that has certified its prefabricated timber frame elements is building company VDM Woningen, which produces sustainable and energy-efficient timber-frame homes. The company holds the KOMO Attestation with Product Certificate based on Assessment Guideline 0904: Timber Frame Building and Assessment Guideline 1704-1: Finger-Jointed Timber for Load-Bearing Applications.
The pilot project chosen was the building of ten semi-detached houses and one detached house located at the Jaspis in Drachten, Netherlands. KiK's quality assurer gBOU. was tasked with quality assurance. Jan van der Meer, general manager of VDM Woningen, was initially sceptical about the cost of quality assurance: "But when put into practice, it was clear that our KOMO certificates have a positive effect. It saves quality assurer gBOU time and work, because products and processes have already been tested for quality. And that results in optimised mobilisation of the quality assurer and therefore ultimately lower costs." All prefabricated timber frame homes by VDM Woningen are built under KOMO certification, including the 18 homes in the new Haarkes Stee development plan in Harkstede, Netherlands.
Isn't gBou quality assurer Keimpe Stroop afraid of getting less work? "No, absolutely not! The quality assurer has plenty of work to do and this is how work performed in accordance with the Wkb is kept affordable."
Building company De Groot Vroomshoop Groep also supplies sustainable and low-energy housing concepts based on timber-frame building. Currently, this company also holds the KOMO certificate based on Assessment Guideline 0905-1: Building Systems for Low-Energy Homes, Home Extensions and/or Residential Buildings.
KiK Helps Housing Concept Builders
Development of the KiK tool software application continues. We are busy working on possible ways to create templates for different building types (first quarter 2021). These templates are reproducible and can be supplemented for each subsequent building project. The advantage is that it makes the phase from planning/testing and risk assessment, up to and including the assurance plan, easier and shorter.
A template to which you can link certificates has an additional advantage. If the housing concept is certified, for example with KOMO Assessment Guideline 0904 or 0905, the tool recognises this as a control measure and the intensity of supervision by the quality assurer can be reduced, resulting in cost reductions. In addition, the certificates support and substantiate the builder's burden of proof.
Would like to get your building concept certified?
Please contact the SKH certification body via: mail@skh.nl